Balance Yin Yang Ring Set
Regular price
$35.00
/
---
[{"id":42292866089173,"title":"5","option1":"5","option2":null,"option3":null,"sku":"QL-YINYANG-5-zuhe","requires_shipping":true,"taxable":true,"featured_image":{"id":36389544624341,"product_id":7495640809685,"position":2,"created_at":"2021-12-21T05:19:48-08:00","updated_at":"2021-12-21T05:19:48-08:00","alt":null,"width":1080,"height":1080,"src":"https:\/\/cdn.shopify.com\/s\/files\/1\/0613\/8803\/0165\/products\/2-wh_ec282530-30a6-4d6c-9e4c-21989d64590c.jpg?v=1640092788","variant_ids":[42292866089173,42292866220245,42292866318549]},"available":true,"name":"Balance Yin Yang Ring Set - 5","public_title":"5","options":["5"],"price":3500,"weight":0,"compare_at_price":null,"inventory_management":null,"barcode":null,"featured_media":{"alt":null,"id":28939984240853,"position":2,"preview_image":{"aspect_ratio":1.0,"height":1080,"width":1080,"src":"https:\/\/cdn.shopify.com\/s\/files\/1\/0613\/8803\/0165\/products\/2-wh_ec282530-30a6-4d6c-9e4c-21989d64590c.jpg?v=1640092788"}},"requires_selling_plan":false,"selling_plan_allocations":[]},{"id":42292866121941,"title":"6","option1":"6","option2":null,"option3":null,"sku":"QL-YINYANG-6-zuhe","requires_shipping":true,"taxable":true,"featured_image":{"id":36389544591573,"product_id":7495640809685,"position":1,"created_at":"2021-12-21T05:19:48-08:00","updated_at":"2021-12-21T05:19:48-08:00","alt":null,"width":1080,"height":1080,"src":"https:\/\/cdn.shopify.com\/s\/files\/1\/0613\/8803\/0165\/products\/wh_e8c1704d-ba61-4134-9040-650272bfa4bd.jpg?v=1640092788","variant_ids":[42292866121941,42292866253013]},"available":true,"name":"Balance Yin Yang Ring Set - 6","public_title":"6","options":["6"],"price":3500,"weight":0,"compare_at_price":null,"inventory_management":null,"barcode":null,"featured_media":{"alt":null,"id":28939984208085,"position":1,"preview_image":{"aspect_ratio":1.0,"height":1080,"width":1080,"src":"https:\/\/cdn.shopify.com\/s\/files\/1\/0613\/8803\/0165\/products\/wh_e8c1704d-ba61-4134-9040-650272bfa4bd.jpg?v=1640092788"}},"requires_selling_plan":false,"selling_plan_allocations":[]},{"id":42292866154709,"title":"7","option1":"7","option2":null,"option3":null,"sku":"QL-YINYANG-7-zuhe","requires_shipping":true,"taxable":true,"featured_image":{"id":36389544657109,"product_id":7495640809685,"position":3,"created_at":"2021-12-21T05:19:48-08:00","updated_at":"2021-12-21T05:19:48-08:00","alt":null,"width":1080,"height":1080,"src":"https:\/\/cdn.shopify.com\/s\/files\/1\/0613\/8803\/0165\/products\/balance-0628.jpg?v=1640092788","variant_ids":[42292866154709,42292866285781]},"available":true,"name":"Balance Yin Yang Ring Set - 7","public_title":"7","options":["7"],"price":3500,"weight":0,"compare_at_price":null,"inventory_management":null,"barcode":null,"featured_media":{"alt":null,"id":28939984273621,"position":3,"preview_image":{"aspect_ratio":1.0,"height":1080,"width":1080,"src":"https:\/\/cdn.shopify.com\/s\/files\/1\/0613\/8803\/0165\/products\/balance-0628.jpg?v=1640092788"}},"requires_selling_plan":false,"selling_plan_allocations":[]},{"id":42292866187477,"title":"8","option1":"8","option2":null,"option3":null,"sku":"QL-YINYANG-8-zuhe","requires_shipping":true,"taxable":true,"featured_image":{"id":36389544722645,"product_id":7495640809685,"position":5,"created_at":"2021-12-21T05:19:48-08:00","updated_at":"2021-12-21T05:19:48-08:00","alt":null,"width":1080,"height":1080,"src":"https:\/\/cdn.shopify.com\/s\/files\/1\/0613\/8803\/0165\/products\/wh_1_0bbf06c7-75f0-4e03-a902-01aea4bf392d.jpg?v=1640092788","variant_ids":[42292866187477]},"available":true,"name":"Balance Yin Yang Ring Set - 8","public_title":"8","options":["8"],"price":3500,"weight":0,"compare_at_price":null,"inventory_management":null,"barcode":null,"featured_media":{"alt":null,"id":28939984339157,"position":5,"preview_image":{"aspect_ratio":1.0,"height":1080,"width":1080,"src":"https:\/\/cdn.shopify.com\/s\/files\/1\/0613\/8803\/0165\/products\/wh_1_0bbf06c7-75f0-4e03-a902-01aea4bf392d.jpg?v=1640092788"}},"requires_selling_plan":false,"selling_plan_allocations":[]},{"id":42292866220245,"title":"9","option1":"9","option2":null,"option3":null,"sku":"QL-YINYANG-9-zuhe","requires_shipping":true,"taxable":true,"featured_image":{"id":36389544624341,"product_id":7495640809685,"position":2,"created_at":"2021-12-21T05:19:48-08:00","updated_at":"2021-12-21T05:19:48-08:00","alt":null,"width":1080,"height":1080,"src":"https:\/\/cdn.shopify.com\/s\/files\/1\/0613\/8803\/0165\/products\/2-wh_ec282530-30a6-4d6c-9e4c-21989d64590c.jpg?v=1640092788","variant_ids":[42292866089173,42292866220245,42292866318549]},"available":true,"name":"Balance Yin Yang Ring Set - 9","public_title":"9","options":["9"],"price":3500,"weight":0,"compare_at_price":null,"inventory_management":null,"barcode":null,"featured_media":{"alt":null,"id":28939984240853,"position":2,"preview_image":{"aspect_ratio":1.0,"height":1080,"width":1080,"src":"https:\/\/cdn.shopify.com\/s\/files\/1\/0613\/8803\/0165\/products\/2-wh_ec282530-30a6-4d6c-9e4c-21989d64590c.jpg?v=1640092788"}},"requires_selling_plan":false,"selling_plan_allocations":[]},{"id":42292866253013,"title":"10","option1":"10","option2":null,"option3":null,"sku":"QL-YINYANG-10-zuhe","requires_shipping":true,"taxable":true,"featured_image":{"id":36389544591573,"product_id":7495640809685,"position":1,"created_at":"2021-12-21T05:19:48-08:00","updated_at":"2021-12-21T05:19:48-08:00","alt":null,"width":1080,"height":1080,"src":"https:\/\/cdn.shopify.com\/s\/files\/1\/0613\/8803\/0165\/products\/wh_e8c1704d-ba61-4134-9040-650272bfa4bd.jpg?v=1640092788","variant_ids":[42292866121941,42292866253013]},"available":true,"name":"Balance Yin Yang Ring Set - 10","public_title":"10","options":["10"],"price":3500,"weight":0,"compare_at_price":null,"inventory_management":null,"barcode":null,"featured_media":{"alt":null,"id":28939984208085,"position":1,"preview_image":{"aspect_ratio":1.0,"height":1080,"width":1080,"src":"https:\/\/cdn.shopify.com\/s\/files\/1\/0613\/8803\/0165\/products\/wh_e8c1704d-ba61-4134-9040-650272bfa4bd.jpg?v=1640092788"}},"requires_selling_plan":false,"selling_plan_allocations":[]},{"id":42292866285781,"title":"11","option1":"11","option2":null,"option3":null,"sku":"QL-YINYANG-11-zuhe","requires_shipping":true,"taxable":true,"featured_image":{"id":36389544657109,"product_id":7495640809685,"position":3,"created_at":"2021-12-21T05:19:48-08:00","updated_at":"2021-12-21T05:19:48-08:00","alt":null,"width":1080,"height":1080,"src":"https:\/\/cdn.shopify.com\/s\/files\/1\/0613\/8803\/0165\/products\/balance-0628.jpg?v=1640092788","variant_ids":[42292866154709,42292866285781]},"available":true,"name":"Balance Yin Yang Ring Set - 11","public_title":"11","options":["11"],"price":3500,"weight":0,"compare_at_price":null,"inventory_management":null,"barcode":null,"featured_media":{"alt":null,"id":28939984273621,"position":3,"preview_image":{"aspect_ratio":1.0,"height":1080,"width":1080,"src":"https:\/\/cdn.shopify.com\/s\/files\/1\/0613\/8803\/0165\/products\/balance-0628.jpg?v=1640092788"}},"requires_selling_plan":false,"selling_plan_allocations":[]},{"id":42292866318549,"title":"12","option1":"12","option2":null,"option3":null,"sku":"QL-YINYANG-12-zuhe","requires_shipping":true,"taxable":true,"featured_image":{"id":36389544624341,"product_id":7495640809685,"position":2,"created_at":"2021-12-21T05:19:48-08:00","updated_at":"2021-12-21T05:19:48-08:00","alt":null,"width":1080,"height":1080,"src":"https:\/\/cdn.shopify.com\/s\/files\/1\/0613\/8803\/0165\/products\/2-wh_ec282530-30a6-4d6c-9e4c-21989d64590c.jpg?v=1640092788","variant_ids":[42292866089173,42292866220245,42292866318549]},"available":true,"name":"Balance Yin Yang Ring Set - 12","public_title":"12","options":["12"],"price":3500,"weight":0,"compare_at_price":null,"inventory_management":null,"barcode":null,"featured_media":{"alt":null,"id":28939984240853,"position":2,"preview_image":{"aspect_ratio":1.0,"height":1080,"width":1080,"src":"https:\/\/cdn.shopify.com\/s\/files\/1\/0613\/8803\/0165\/products\/2-wh_ec282530-30a6-4d6c-9e4c-21989d64590c.jpg?v=1640092788"}},"requires_selling_plan":false,"selling_plan_allocations":[]}]
DESCRIPTION
A perfect motivational gift to remind one of a simple truth: Recognize your sacred right as a human being to taste both fear and hope, sorrow and happiness, darkness and light in life. Feel secure in your mistakes. Forgive your imperfections. Enjoy life as it is. 
Style: ying yang contrast color ring, tai chi shape ring.
CARD CONTENT
A happy life is not built upon.
The goal of perfection.
But balance.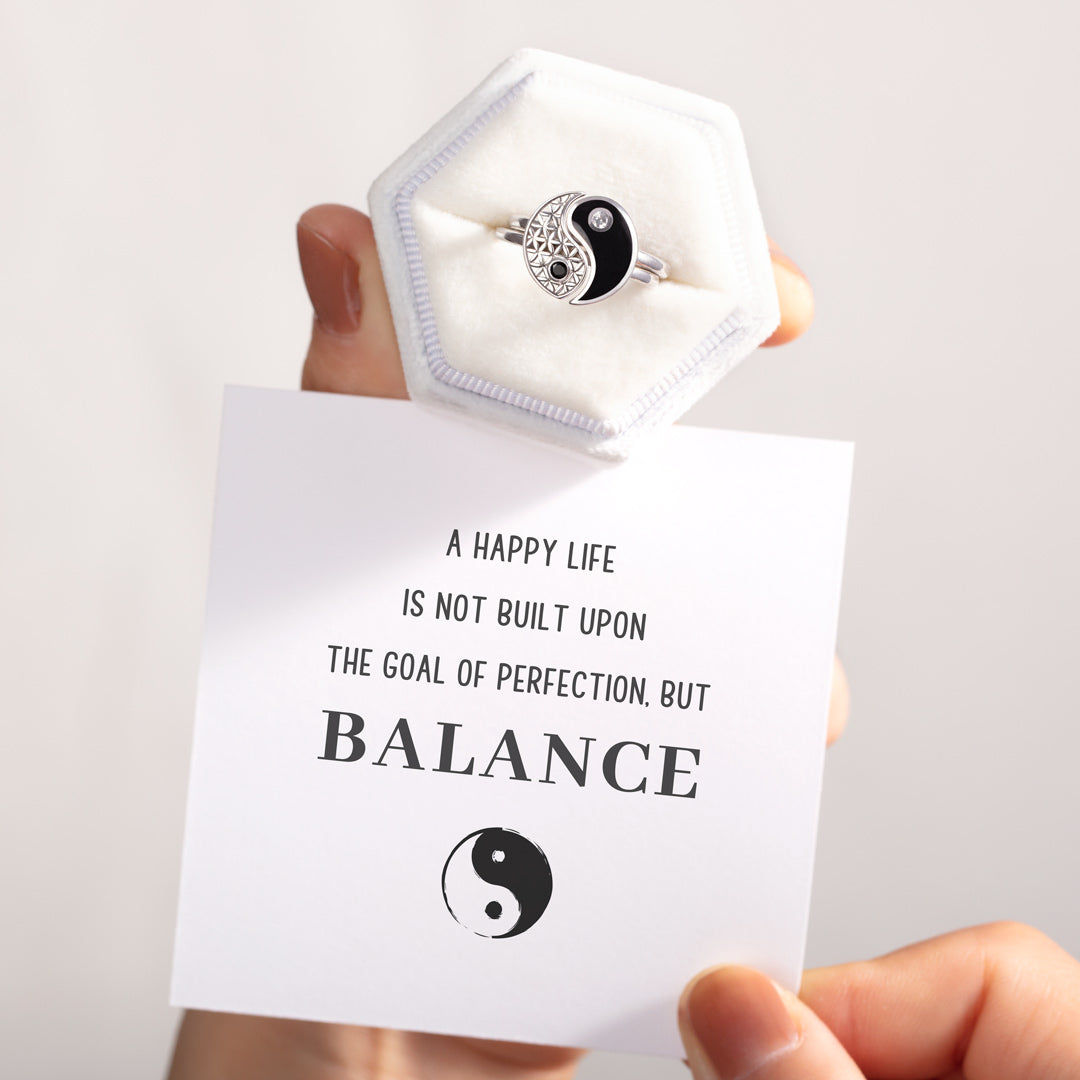 SPECIFICATIONS 
Size: US 5-12
Metal: 925 Sterling Silver
Nickel and Tarnish Free
FREE Original Message Card