Meaningful Quotes Color Bangle
Regular price
$28.90
/
---
[{"id":42293012889813,"title":"Neptune Green \/ You are a badass","option1":"Neptune Green","option2":"You are a badass","option3":null,"sku":"TA-badass-Green","requires_shipping":true,"taxable":true,"featured_image":{"id":36389656002773,"product_id":7495658701013,"position":9,"created_at":"2021-12-21T05:32:09-08:00","updated_at":"2021-12-21T05:32:09-08:00","alt":null,"width":1080,"height":1080,"src":"https:\/\/cdn.shopify.com\/s\/files\/1\/0613\/8803\/0165\/products\/3_ce96d06d-a72e-4468-be54-63678cf4127f.jpg?v=1640093529","variant_ids":[42293012889813,42293012955349,42293013217493,42293013283029,42293013512405,42293013545173,42293013709013,42293013741781,42293013905621,42293013938389,42293014102229,42293014134997,42293014298837,42293014331605,42293014495445,42293014528213]},"available":true,"name":"Meaningful Quotes Color Bangle - Neptune Green \/ You are a badass","public_title":"Neptune Green \/ You are a badass","options":["Neptune Green","You are a badass"],"price":2890,"weight":0,"compare_at_price":null,"inventory_management":null,"barcode":null,"featured_media":{"alt":null,"id":28940096143573,"position":9,"preview_image":{"aspect_ratio":1.0,"height":1080,"width":1080,"src":"https:\/\/cdn.shopify.com\/s\/files\/1\/0613\/8803\/0165\/products\/3_ce96d06d-a72e-4468-be54-63678cf4127f.jpg?v=1640093529"}},"requires_selling_plan":false,"selling_plan_allocations":[]},{"id":42293012955349,"title":"Neptune Green \/ You fucking got this","option1":"Neptune Green","option2":"You fucking got this","option3":null,"sku":"TA-fuckinggot-Green","requires_shipping":true,"taxable":true,"featured_image":{"id":36389656002773,"product_id":7495658701013,"position":9,"created_at":"2021-12-21T05:32:09-08:00","updated_at":"2021-12-21T05:32:09-08:00","alt":null,"width":1080,"height":1080,"src":"https:\/\/cdn.shopify.com\/s\/files\/1\/0613\/8803\/0165\/products\/3_ce96d06d-a72e-4468-be54-63678cf4127f.jpg?v=1640093529","variant_ids":[42293012889813,42293012955349,42293013217493,42293013283029,42293013512405,42293013545173,42293013709013,42293013741781,42293013905621,42293013938389,42293014102229,42293014134997,42293014298837,42293014331605,42293014495445,42293014528213]},"available":true,"name":"Meaningful Quotes Color Bangle - Neptune Green \/ You fucking got this","public_title":"Neptune Green \/ You fucking got this","options":["Neptune Green","You fucking got this"],"price":2890,"weight":0,"compare_at_price":null,"inventory_management":null,"barcode":null,"featured_media":{"alt":null,"id":28940096143573,"position":9,"preview_image":{"aspect_ratio":1.0,"height":1080,"width":1080,"src":"https:\/\/cdn.shopify.com\/s\/files\/1\/0613\/8803\/0165\/products\/3_ce96d06d-a72e-4468-be54-63678cf4127f.jpg?v=1640093529"}},"requires_selling_plan":false,"selling_plan_allocations":[]},{"id":42293013020885,"title":"Neptune Green \/ Believe in you like I do","option1":"Neptune Green","option2":"Believe in you like I do","option3":null,"sku":"TA-Believein-Green","requires_shipping":true,"taxable":true,"featured_image":{"id":36389656035541,"product_id":7495658701013,"position":10,"created_at":"2021-12-21T05:32:09-08:00","updated_at":"2021-12-21T05:32:09-08:00","alt":null,"width":1080,"height":1080,"src":"https:\/\/cdn.shopify.com\/s\/files\/1\/0613\/8803\/0165\/products\/2_c10eba21-d190-4ea2-82dc-5236f05143b0.jpg?v=1640093529","variant_ids":[42293013020885,42293013086421,42293013348565,42293013414101,42293013577941,42293013610709,42293013774549,42293013807317,42293013971157,42293014003925,42293014167765,42293014200533,42293014364373,42293014397141,42293014560981,42293014593749]},"available":true,"name":"Meaningful Quotes Color Bangle - Neptune Green \/ Believe in you like I do","public_title":"Neptune Green \/ Believe in you like I do","options":["Neptune Green","Believe in you like I do"],"price":2890,"weight":0,"compare_at_price":null,"inventory_management":null,"barcode":null,"featured_media":{"alt":null,"id":28940096176341,"position":10,"preview_image":{"aspect_ratio":1.0,"height":1080,"width":1080,"src":"https:\/\/cdn.shopify.com\/s\/files\/1\/0613\/8803\/0165\/products\/2_c10eba21-d190-4ea2-82dc-5236f05143b0.jpg?v=1640093529"}},"requires_selling_plan":false,"selling_plan_allocations":[]},{"id":42293013086421,"title":"Neptune Green \/ keep fucking going","option1":"Neptune Green","option2":"keep fucking going","option3":null,"sku":"TA-Keepfucking-Green","requires_shipping":true,"taxable":true,"featured_image":{"id":36389656035541,"product_id":7495658701013,"position":10,"created_at":"2021-12-21T05:32:09-08:00","updated_at":"2021-12-21T05:32:09-08:00","alt":null,"width":1080,"height":1080,"src":"https:\/\/cdn.shopify.com\/s\/files\/1\/0613\/8803\/0165\/products\/2_c10eba21-d190-4ea2-82dc-5236f05143b0.jpg?v=1640093529","variant_ids":[42293013020885,42293013086421,42293013348565,42293013414101,42293013577941,42293013610709,42293013774549,42293013807317,42293013971157,42293014003925,42293014167765,42293014200533,42293014364373,42293014397141,42293014560981,42293014593749]},"available":true,"name":"Meaningful Quotes Color Bangle - Neptune Green \/ keep fucking going","public_title":"Neptune Green \/ keep fucking going","options":["Neptune Green","keep fucking going"],"price":2890,"weight":0,"compare_at_price":null,"inventory_management":null,"barcode":null,"featured_media":{"alt":null,"id":28940096176341,"position":10,"preview_image":{"aspect_ratio":1.0,"height":1080,"width":1080,"src":"https:\/\/cdn.shopify.com\/s\/files\/1\/0613\/8803\/0165\/products\/2_c10eba21-d190-4ea2-82dc-5236f05143b0.jpg?v=1640093529"}},"requires_selling_plan":false,"selling_plan_allocations":[]},{"id":42293013119189,"title":"Neptune Green \/ She believed she could so she did","option1":"Neptune Green","option2":"She believed she could so she did","option3":null,"sku":"TA-Shebelieve-Green","requires_shipping":true,"taxable":true,"featured_image":null,"available":true,"name":"Meaningful Quotes Color Bangle - Neptune Green \/ She believed she could so she did","public_title":"Neptune Green \/ She believed she could so she did","options":["Neptune Green","She believed she could so she did"],"price":2890,"weight":0,"compare_at_price":null,"inventory_management":null,"barcode":null,"requires_selling_plan":false,"selling_plan_allocations":[]},{"id":42293013184725,"title":"Neptune Green \/ Queen of everything","option1":"Neptune Green","option2":"Queen of everything","option3":null,"sku":"TA-Queen-Green","requires_shipping":true,"taxable":true,"featured_image":null,"available":true,"name":"Meaningful Quotes Color Bangle - Neptune Green \/ Queen of everything","public_title":"Neptune Green \/ Queen of everything","options":["Neptune Green","Queen of everything"],"price":2890,"weight":0,"compare_at_price":null,"inventory_management":null,"barcode":null,"requires_selling_plan":false,"selling_plan_allocations":[]},{"id":42293013217493,"title":"Subtle Green \/ You are a badass","option1":"Subtle Green","option2":"You are a badass","option3":null,"sku":"TA-badass-LightGreen","requires_shipping":true,"taxable":true,"featured_image":{"id":36389656002773,"product_id":7495658701013,"position":9,"created_at":"2021-12-21T05:32:09-08:00","updated_at":"2021-12-21T05:32:09-08:00","alt":null,"width":1080,"height":1080,"src":"https:\/\/cdn.shopify.com\/s\/files\/1\/0613\/8803\/0165\/products\/3_ce96d06d-a72e-4468-be54-63678cf4127f.jpg?v=1640093529","variant_ids":[42293012889813,42293012955349,42293013217493,42293013283029,42293013512405,42293013545173,42293013709013,42293013741781,42293013905621,42293013938389,42293014102229,42293014134997,42293014298837,42293014331605,42293014495445,42293014528213]},"available":true,"name":"Meaningful Quotes Color Bangle - Subtle Green \/ You are a badass","public_title":"Subtle Green \/ You are a badass","options":["Subtle Green","You are a badass"],"price":2890,"weight":0,"compare_at_price":null,"inventory_management":null,"barcode":null,"featured_media":{"alt":null,"id":28940096143573,"position":9,"preview_image":{"aspect_ratio":1.0,"height":1080,"width":1080,"src":"https:\/\/cdn.shopify.com\/s\/files\/1\/0613\/8803\/0165\/products\/3_ce96d06d-a72e-4468-be54-63678cf4127f.jpg?v=1640093529"}},"requires_selling_plan":false,"selling_plan_allocations":[]},{"id":42293013283029,"title":"Subtle Green \/ You fucking got this","option1":"Subtle Green","option2":"You fucking got this","option3":null,"sku":"TA-fuckinggot-LightGreen","requires_shipping":true,"taxable":true,"featured_image":{"id":36389656002773,"product_id":7495658701013,"position":9,"created_at":"2021-12-21T05:32:09-08:00","updated_at":"2021-12-21T05:32:09-08:00","alt":null,"width":1080,"height":1080,"src":"https:\/\/cdn.shopify.com\/s\/files\/1\/0613\/8803\/0165\/products\/3_ce96d06d-a72e-4468-be54-63678cf4127f.jpg?v=1640093529","variant_ids":[42293012889813,42293012955349,42293013217493,42293013283029,42293013512405,42293013545173,42293013709013,42293013741781,42293013905621,42293013938389,42293014102229,42293014134997,42293014298837,42293014331605,42293014495445,42293014528213]},"available":true,"name":"Meaningful Quotes Color Bangle - Subtle Green \/ You fucking got this","public_title":"Subtle Green \/ You fucking got this","options":["Subtle Green","You fucking got this"],"price":2890,"weight":0,"compare_at_price":null,"inventory_management":null,"barcode":null,"featured_media":{"alt":null,"id":28940096143573,"position":9,"preview_image":{"aspect_ratio":1.0,"height":1080,"width":1080,"src":"https:\/\/cdn.shopify.com\/s\/files\/1\/0613\/8803\/0165\/products\/3_ce96d06d-a72e-4468-be54-63678cf4127f.jpg?v=1640093529"}},"requires_selling_plan":false,"selling_plan_allocations":[]},{"id":42293013348565,"title":"Subtle Green \/ Believe in you like I do","option1":"Subtle Green","option2":"Believe in you like I do","option3":null,"sku":"TA-Believein-LightGreen","requires_shipping":true,"taxable":true,"featured_image":{"id":36389656035541,"product_id":7495658701013,"position":10,"created_at":"2021-12-21T05:32:09-08:00","updated_at":"2021-12-21T05:32:09-08:00","alt":null,"width":1080,"height":1080,"src":"https:\/\/cdn.shopify.com\/s\/files\/1\/0613\/8803\/0165\/products\/2_c10eba21-d190-4ea2-82dc-5236f05143b0.jpg?v=1640093529","variant_ids":[42293013020885,42293013086421,42293013348565,42293013414101,42293013577941,42293013610709,42293013774549,42293013807317,42293013971157,42293014003925,42293014167765,42293014200533,42293014364373,42293014397141,42293014560981,42293014593749]},"available":true,"name":"Meaningful Quotes Color Bangle - Subtle Green \/ Believe in you like I do","public_title":"Subtle Green \/ Believe in you like I do","options":["Subtle Green","Believe in you like I do"],"price":2890,"weight":0,"compare_at_price":null,"inventory_management":null,"barcode":null,"featured_media":{"alt":null,"id":28940096176341,"position":10,"preview_image":{"aspect_ratio":1.0,"height":1080,"width":1080,"src":"https:\/\/cdn.shopify.com\/s\/files\/1\/0613\/8803\/0165\/products\/2_c10eba21-d190-4ea2-82dc-5236f05143b0.jpg?v=1640093529"}},"requires_selling_plan":false,"selling_plan_allocations":[]},{"id":42293013414101,"title":"Subtle Green \/ keep fucking going","option1":"Subtle Green","option2":"keep fucking going","option3":null,"sku":"TA-Keepfucking-LightGreen","requires_shipping":true,"taxable":true,"featured_image":{"id":36389656035541,"product_id":7495658701013,"position":10,"created_at":"2021-12-21T05:32:09-08:00","updated_at":"2021-12-21T05:32:09-08:00","alt":null,"width":1080,"height":1080,"src":"https:\/\/cdn.shopify.com\/s\/files\/1\/0613\/8803\/0165\/products\/2_c10eba21-d190-4ea2-82dc-5236f05143b0.jpg?v=1640093529","variant_ids":[42293013020885,42293013086421,42293013348565,42293013414101,42293013577941,42293013610709,42293013774549,42293013807317,42293013971157,42293014003925,42293014167765,42293014200533,42293014364373,42293014397141,42293014560981,42293014593749]},"available":true,"name":"Meaningful Quotes Color Bangle - Subtle Green \/ keep fucking going","public_title":"Subtle Green \/ keep fucking going","options":["Subtle Green","keep fucking going"],"price":2890,"weight":0,"compare_at_price":null,"inventory_management":null,"barcode":null,"featured_media":{"alt":null,"id":28940096176341,"position":10,"preview_image":{"aspect_ratio":1.0,"height":1080,"width":1080,"src":"https:\/\/cdn.shopify.com\/s\/files\/1\/0613\/8803\/0165\/products\/2_c10eba21-d190-4ea2-82dc-5236f05143b0.jpg?v=1640093529"}},"requires_selling_plan":false,"selling_plan_allocations":[]},{"id":42293013446869,"title":"Subtle Green \/ She believed she could so she did","option1":"Subtle Green","option2":"She believed she could so she did","option3":null,"sku":"TA-Shebelieve-LightGreen","requires_shipping":true,"taxable":true,"featured_image":null,"available":true,"name":"Meaningful Quotes Color Bangle - Subtle Green \/ She believed she could so she did","public_title":"Subtle Green \/ She believed she could so she did","options":["Subtle Green","She believed she could so she did"],"price":2890,"weight":0,"compare_at_price":null,"inventory_management":null,"barcode":null,"requires_selling_plan":false,"selling_plan_allocations":[]},{"id":42293013479637,"title":"Subtle Green \/ Queen of everything","option1":"Subtle Green","option2":"Queen of everything","option3":null,"sku":"TA-Queen-LightGreen","requires_shipping":true,"taxable":true,"featured_image":null,"available":true,"name":"Meaningful Quotes Color Bangle - Subtle Green \/ Queen of everything","public_title":"Subtle Green \/ Queen of everything","options":["Subtle Green","Queen of everything"],"price":2890,"weight":0,"compare_at_price":null,"inventory_management":null,"barcode":null,"requires_selling_plan":false,"selling_plan_allocations":[]},{"id":42293013512405,"title":"Powder Blue \/ You are a badass","option1":"Powder Blue","option2":"You are a badass","option3":null,"sku":"TA-badass-Blue","requires_shipping":true,"taxable":true,"featured_image":{"id":36389656002773,"product_id":7495658701013,"position":9,"created_at":"2021-12-21T05:32:09-08:00","updated_at":"2021-12-21T05:32:09-08:00","alt":null,"width":1080,"height":1080,"src":"https:\/\/cdn.shopify.com\/s\/files\/1\/0613\/8803\/0165\/products\/3_ce96d06d-a72e-4468-be54-63678cf4127f.jpg?v=1640093529","variant_ids":[42293012889813,42293012955349,42293013217493,42293013283029,42293013512405,42293013545173,42293013709013,42293013741781,42293013905621,42293013938389,42293014102229,42293014134997,42293014298837,42293014331605,42293014495445,42293014528213]},"available":true,"name":"Meaningful Quotes Color Bangle - Powder Blue \/ You are a badass","public_title":"Powder Blue \/ You are a badass","options":["Powder Blue","You are a badass"],"price":2890,"weight":0,"compare_at_price":null,"inventory_management":null,"barcode":null,"featured_media":{"alt":null,"id":28940096143573,"position":9,"preview_image":{"aspect_ratio":1.0,"height":1080,"width":1080,"src":"https:\/\/cdn.shopify.com\/s\/files\/1\/0613\/8803\/0165\/products\/3_ce96d06d-a72e-4468-be54-63678cf4127f.jpg?v=1640093529"}},"requires_selling_plan":false,"selling_plan_allocations":[]},{"id":42293013545173,"title":"Powder Blue \/ You fucking got this","option1":"Powder Blue","option2":"You fucking got this","option3":null,"sku":"TA-fuckinggot-Blue","requires_shipping":true,"taxable":true,"featured_image":{"id":36389656002773,"product_id":7495658701013,"position":9,"created_at":"2021-12-21T05:32:09-08:00","updated_at":"2021-12-21T05:32:09-08:00","alt":null,"width":1080,"height":1080,"src":"https:\/\/cdn.shopify.com\/s\/files\/1\/0613\/8803\/0165\/products\/3_ce96d06d-a72e-4468-be54-63678cf4127f.jpg?v=1640093529","variant_ids":[42293012889813,42293012955349,42293013217493,42293013283029,42293013512405,42293013545173,42293013709013,42293013741781,42293013905621,42293013938389,42293014102229,42293014134997,42293014298837,42293014331605,42293014495445,42293014528213]},"available":true,"name":"Meaningful Quotes Color Bangle - Powder Blue \/ You fucking got this","public_title":"Powder Blue \/ You fucking got this","options":["Powder Blue","You fucking got this"],"price":2890,"weight":0,"compare_at_price":null,"inventory_management":null,"barcode":null,"featured_media":{"alt":null,"id":28940096143573,"position":9,"preview_image":{"aspect_ratio":1.0,"height":1080,"width":1080,"src":"https:\/\/cdn.shopify.com\/s\/files\/1\/0613\/8803\/0165\/products\/3_ce96d06d-a72e-4468-be54-63678cf4127f.jpg?v=1640093529"}},"requires_selling_plan":false,"selling_plan_allocations":[]},{"id":42293013577941,"title":"Powder Blue \/ Believe in you like I do","option1":"Powder Blue","option2":"Believe in you like I do","option3":null,"sku":"TA-Believein-Blue","requires_shipping":true,"taxable":true,"featured_image":{"id":36389656035541,"product_id":7495658701013,"position":10,"created_at":"2021-12-21T05:32:09-08:00","updated_at":"2021-12-21T05:32:09-08:00","alt":null,"width":1080,"height":1080,"src":"https:\/\/cdn.shopify.com\/s\/files\/1\/0613\/8803\/0165\/products\/2_c10eba21-d190-4ea2-82dc-5236f05143b0.jpg?v=1640093529","variant_ids":[42293013020885,42293013086421,42293013348565,42293013414101,42293013577941,42293013610709,42293013774549,42293013807317,42293013971157,42293014003925,42293014167765,42293014200533,42293014364373,42293014397141,42293014560981,42293014593749]},"available":true,"name":"Meaningful Quotes Color Bangle - Powder Blue \/ Believe in you like I do","public_title":"Powder Blue \/ Believe in you like I do","options":["Powder Blue","Believe in you like I do"],"price":2890,"weight":0,"compare_at_price":null,"inventory_management":null,"barcode":null,"featured_media":{"alt":null,"id":28940096176341,"position":10,"preview_image":{"aspect_ratio":1.0,"height":1080,"width":1080,"src":"https:\/\/cdn.shopify.com\/s\/files\/1\/0613\/8803\/0165\/products\/2_c10eba21-d190-4ea2-82dc-5236f05143b0.jpg?v=1640093529"}},"requires_selling_plan":false,"selling_plan_allocations":[]},{"id":42293013610709,"title":"Powder Blue \/ keep fucking going","option1":"Powder Blue","option2":"keep fucking going","option3":null,"sku":"TA-Keepfucking-Blue","requires_shipping":true,"taxable":true,"featured_image":{"id":36389656035541,"product_id":7495658701013,"position":10,"created_at":"2021-12-21T05:32:09-08:00","updated_at":"2021-12-21T05:32:09-08:00","alt":null,"width":1080,"height":1080,"src":"https:\/\/cdn.shopify.com\/s\/files\/1\/0613\/8803\/0165\/products\/2_c10eba21-d190-4ea2-82dc-5236f05143b0.jpg?v=1640093529","variant_ids":[42293013020885,42293013086421,42293013348565,42293013414101,42293013577941,42293013610709,42293013774549,42293013807317,42293013971157,42293014003925,42293014167765,42293014200533,42293014364373,42293014397141,42293014560981,42293014593749]},"available":true,"name":"Meaningful Quotes Color Bangle - Powder Blue \/ keep fucking going","public_title":"Powder Blue \/ keep fucking going","options":["Powder Blue","keep fucking going"],"price":2890,"weight":0,"compare_at_price":null,"inventory_management":null,"barcode":null,"featured_media":{"alt":null,"id":28940096176341,"position":10,"preview_image":{"aspect_ratio":1.0,"height":1080,"width":1080,"src":"https:\/\/cdn.shopify.com\/s\/files\/1\/0613\/8803\/0165\/products\/2_c10eba21-d190-4ea2-82dc-5236f05143b0.jpg?v=1640093529"}},"requires_selling_plan":false,"selling_plan_allocations":[]},{"id":42293013643477,"title":"Powder Blue \/ She believed she could so she did","option1":"Powder Blue","option2":"She believed she could so she did","option3":null,"sku":"TA-Shebelieve-Blue","requires_shipping":true,"taxable":true,"featured_image":null,"available":true,"name":"Meaningful Quotes Color Bangle - Powder Blue \/ She believed she could so she did","public_title":"Powder Blue \/ She believed she could so she did","options":["Powder Blue","She believed she could so she did"],"price":2890,"weight":0,"compare_at_price":null,"inventory_management":null,"barcode":null,"requires_selling_plan":false,"selling_plan_allocations":[]},{"id":42293013676245,"title":"Powder Blue \/ Queen of everything","option1":"Powder Blue","option2":"Queen of everything","option3":null,"sku":"TA-Queen-Blue","requires_shipping":true,"taxable":true,"featured_image":null,"available":true,"name":"Meaningful Quotes Color Bangle - Powder Blue \/ Queen of everything","public_title":"Powder Blue \/ Queen of everything","options":["Powder Blue","Queen of everything"],"price":2890,"weight":0,"compare_at_price":null,"inventory_management":null,"barcode":null,"requires_selling_plan":false,"selling_plan_allocations":[]},{"id":42293013709013,"title":"Baby Blue \/ You are a badass","option1":"Baby Blue","option2":"You are a badass","option3":null,"sku":"TA-badass-LightBlue","requires_shipping":true,"taxable":true,"featured_image":{"id":36389656002773,"product_id":7495658701013,"position":9,"created_at":"2021-12-21T05:32:09-08:00","updated_at":"2021-12-21T05:32:09-08:00","alt":null,"width":1080,"height":1080,"src":"https:\/\/cdn.shopify.com\/s\/files\/1\/0613\/8803\/0165\/products\/3_ce96d06d-a72e-4468-be54-63678cf4127f.jpg?v=1640093529","variant_ids":[42293012889813,42293012955349,42293013217493,42293013283029,42293013512405,42293013545173,42293013709013,42293013741781,42293013905621,42293013938389,42293014102229,42293014134997,42293014298837,42293014331605,42293014495445,42293014528213]},"available":true,"name":"Meaningful Quotes Color Bangle - Baby Blue \/ You are a badass","public_title":"Baby Blue \/ You are a badass","options":["Baby Blue","You are a badass"],"price":2890,"weight":0,"compare_at_price":null,"inventory_management":null,"barcode":null,"featured_media":{"alt":null,"id":28940096143573,"position":9,"preview_image":{"aspect_ratio":1.0,"height":1080,"width":1080,"src":"https:\/\/cdn.shopify.com\/s\/files\/1\/0613\/8803\/0165\/products\/3_ce96d06d-a72e-4468-be54-63678cf4127f.jpg?v=1640093529"}},"requires_selling_plan":false,"selling_plan_allocations":[]},{"id":42293013741781,"title":"Baby Blue \/ You fucking got this","option1":"Baby Blue","option2":"You fucking got this","option3":null,"sku":"TA-fuckinggot-LightBlue","requires_shipping":true,"taxable":true,"featured_image":{"id":36389656002773,"product_id":7495658701013,"position":9,"created_at":"2021-12-21T05:32:09-08:00","updated_at":"2021-12-21T05:32:09-08:00","alt":null,"width":1080,"height":1080,"src":"https:\/\/cdn.shopify.com\/s\/files\/1\/0613\/8803\/0165\/products\/3_ce96d06d-a72e-4468-be54-63678cf4127f.jpg?v=1640093529","variant_ids":[42293012889813,42293012955349,42293013217493,42293013283029,42293013512405,42293013545173,42293013709013,42293013741781,42293013905621,42293013938389,42293014102229,42293014134997,42293014298837,42293014331605,42293014495445,42293014528213]},"available":true,"name":"Meaningful Quotes Color Bangle - Baby Blue \/ You fucking got this","public_title":"Baby Blue \/ You fucking got this","options":["Baby Blue","You fucking got this"],"price":2890,"weight":0,"compare_at_price":null,"inventory_management":null,"barcode":null,"featured_media":{"alt":null,"id":28940096143573,"position":9,"preview_image":{"aspect_ratio":1.0,"height":1080,"width":1080,"src":"https:\/\/cdn.shopify.com\/s\/files\/1\/0613\/8803\/0165\/products\/3_ce96d06d-a72e-4468-be54-63678cf4127f.jpg?v=1640093529"}},"requires_selling_plan":false,"selling_plan_allocations":[]},{"id":42293013774549,"title":"Baby Blue \/ Believe in you like I do","option1":"Baby Blue","option2":"Believe in you like I do","option3":null,"sku":"TA-Believein-LightBlue","requires_shipping":true,"taxable":true,"featured_image":{"id":36389656035541,"product_id":7495658701013,"position":10,"created_at":"2021-12-21T05:32:09-08:00","updated_at":"2021-12-21T05:32:09-08:00","alt":null,"width":1080,"height":1080,"src":"https:\/\/cdn.shopify.com\/s\/files\/1\/0613\/8803\/0165\/products\/2_c10eba21-d190-4ea2-82dc-5236f05143b0.jpg?v=1640093529","variant_ids":[42293013020885,42293013086421,42293013348565,42293013414101,42293013577941,42293013610709,42293013774549,42293013807317,42293013971157,42293014003925,42293014167765,42293014200533,42293014364373,42293014397141,42293014560981,42293014593749]},"available":true,"name":"Meaningful Quotes Color Bangle - Baby Blue \/ Believe in you like I do","public_title":"Baby Blue \/ Believe in you like I do","options":["Baby Blue","Believe in you like I do"],"price":2890,"weight":0,"compare_at_price":null,"inventory_management":null,"barcode":null,"featured_media":{"alt":null,"id":28940096176341,"position":10,"preview_image":{"aspect_ratio":1.0,"height":1080,"width":1080,"src":"https:\/\/cdn.shopify.com\/s\/files\/1\/0613\/8803\/0165\/products\/2_c10eba21-d190-4ea2-82dc-5236f05143b0.jpg?v=1640093529"}},"requires_selling_plan":false,"selling_plan_allocations":[]},{"id":42293013807317,"title":"Baby Blue \/ keep fucking going","option1":"Baby Blue","option2":"keep fucking going","option3":null,"sku":"TA-Keepfucking-LightBlue","requires_shipping":true,"taxable":true,"featured_image":{"id":36389656035541,"product_id":7495658701013,"position":10,"created_at":"2021-12-21T05:32:09-08:00","updated_at":"2021-12-21T05:32:09-08:00","alt":null,"width":1080,"height":1080,"src":"https:\/\/cdn.shopify.com\/s\/files\/1\/0613\/8803\/0165\/products\/2_c10eba21-d190-4ea2-82dc-5236f05143b0.jpg?v=1640093529","variant_ids":[42293013020885,42293013086421,42293013348565,42293013414101,42293013577941,42293013610709,42293013774549,42293013807317,42293013971157,42293014003925,42293014167765,42293014200533,42293014364373,42293014397141,42293014560981,42293014593749]},"available":true,"name":"Meaningful Quotes Color Bangle - Baby Blue \/ keep fucking going","public_title":"Baby Blue \/ keep fucking going","options":["Baby Blue","keep fucking going"],"price":2890,"weight":0,"compare_at_price":null,"inventory_management":null,"barcode":null,"featured_media":{"alt":null,"id":28940096176341,"position":10,"preview_image":{"aspect_ratio":1.0,"height":1080,"width":1080,"src":"https:\/\/cdn.shopify.com\/s\/files\/1\/0613\/8803\/0165\/products\/2_c10eba21-d190-4ea2-82dc-5236f05143b0.jpg?v=1640093529"}},"requires_selling_plan":false,"selling_plan_allocations":[]},{"id":42293013840085,"title":"Baby Blue \/ She believed she could so she did","option1":"Baby Blue","option2":"She believed she could so she did","option3":null,"sku":"TA-Shebelieve-LightBlue","requires_shipping":true,"taxable":true,"featured_image":null,"available":true,"name":"Meaningful Quotes Color Bangle - Baby Blue \/ She believed she could so she did","public_title":"Baby Blue \/ She believed she could so she did","options":["Baby Blue","She believed she could so she did"],"price":2890,"weight":0,"compare_at_price":null,"inventory_management":null,"barcode":null,"requires_selling_plan":false,"selling_plan_allocations":[]},{"id":42293013872853,"title":"Baby Blue \/ Queen of everything","option1":"Baby Blue","option2":"Queen of everything","option3":null,"sku":"TA-Queen-LightBlue","requires_shipping":true,"taxable":true,"featured_image":null,"available":true,"name":"Meaningful Quotes Color Bangle - Baby Blue \/ Queen of everything","public_title":"Baby Blue \/ Queen of everything","options":["Baby Blue","Queen of everything"],"price":2890,"weight":0,"compare_at_price":null,"inventory_management":null,"barcode":null,"requires_selling_plan":false,"selling_plan_allocations":[]},{"id":42293013905621,"title":"Rose Cloud \/ You are a badass","option1":"Rose Cloud","option2":"You are a badass","option3":null,"sku":"TA-badass-Pink","requires_shipping":true,"taxable":true,"featured_image":{"id":36389656002773,"product_id":7495658701013,"position":9,"created_at":"2021-12-21T05:32:09-08:00","updated_at":"2021-12-21T05:32:09-08:00","alt":null,"width":1080,"height":1080,"src":"https:\/\/cdn.shopify.com\/s\/files\/1\/0613\/8803\/0165\/products\/3_ce96d06d-a72e-4468-be54-63678cf4127f.jpg?v=1640093529","variant_ids":[42293012889813,42293012955349,42293013217493,42293013283029,42293013512405,42293013545173,42293013709013,42293013741781,42293013905621,42293013938389,42293014102229,42293014134997,42293014298837,42293014331605,42293014495445,42293014528213]},"available":true,"name":"Meaningful Quotes Color Bangle - Rose Cloud \/ You are a badass","public_title":"Rose Cloud \/ You are a badass","options":["Rose Cloud","You are a badass"],"price":2890,"weight":0,"compare_at_price":null,"inventory_management":null,"barcode":null,"featured_media":{"alt":null,"id":28940096143573,"position":9,"preview_image":{"aspect_ratio":1.0,"height":1080,"width":1080,"src":"https:\/\/cdn.shopify.com\/s\/files\/1\/0613\/8803\/0165\/products\/3_ce96d06d-a72e-4468-be54-63678cf4127f.jpg?v=1640093529"}},"requires_selling_plan":false,"selling_plan_allocations":[]},{"id":42293013938389,"title":"Rose Cloud \/ You fucking got this","option1":"Rose Cloud","option2":"You fucking got this","option3":null,"sku":"TA-fuckinggot-Pink","requires_shipping":true,"taxable":true,"featured_image":{"id":36389656002773,"product_id":7495658701013,"position":9,"created_at":"2021-12-21T05:32:09-08:00","updated_at":"2021-12-21T05:32:09-08:00","alt":null,"width":1080,"height":1080,"src":"https:\/\/cdn.shopify.com\/s\/files\/1\/0613\/8803\/0165\/products\/3_ce96d06d-a72e-4468-be54-63678cf4127f.jpg?v=1640093529","variant_ids":[42293012889813,42293012955349,42293013217493,42293013283029,42293013512405,42293013545173,42293013709013,42293013741781,42293013905621,42293013938389,42293014102229,42293014134997,42293014298837,42293014331605,42293014495445,42293014528213]},"available":true,"name":"Meaningful Quotes Color Bangle - Rose Cloud \/ You fucking got this","public_title":"Rose Cloud \/ You fucking got this","options":["Rose Cloud","You fucking got this"],"price":2890,"weight":0,"compare_at_price":null,"inventory_management":null,"barcode":null,"featured_media":{"alt":null,"id":28940096143573,"position":9,"preview_image":{"aspect_ratio":1.0,"height":1080,"width":1080,"src":"https:\/\/cdn.shopify.com\/s\/files\/1\/0613\/8803\/0165\/products\/3_ce96d06d-a72e-4468-be54-63678cf4127f.jpg?v=1640093529"}},"requires_selling_plan":false,"selling_plan_allocations":[]},{"id":42293013971157,"title":"Rose Cloud \/ Believe in you like I do","option1":"Rose Cloud","option2":"Believe in you like I do","option3":null,"sku":"TA-Believein-Pink","requires_shipping":true,"taxable":true,"featured_image":{"id":36389656035541,"product_id":7495658701013,"position":10,"created_at":"2021-12-21T05:32:09-08:00","updated_at":"2021-12-21T05:32:09-08:00","alt":null,"width":1080,"height":1080,"src":"https:\/\/cdn.shopify.com\/s\/files\/1\/0613\/8803\/0165\/products\/2_c10eba21-d190-4ea2-82dc-5236f05143b0.jpg?v=1640093529","variant_ids":[42293013020885,42293013086421,42293013348565,42293013414101,42293013577941,42293013610709,42293013774549,42293013807317,42293013971157,42293014003925,42293014167765,42293014200533,42293014364373,42293014397141,42293014560981,42293014593749]},"available":true,"name":"Meaningful Quotes Color Bangle - Rose Cloud \/ Believe in you like I do","public_title":"Rose Cloud \/ Believe in you like I do","options":["Rose Cloud","Believe in you like I do"],"price":2890,"weight":0,"compare_at_price":null,"inventory_management":null,"barcode":null,"featured_media":{"alt":null,"id":28940096176341,"position":10,"preview_image":{"aspect_ratio":1.0,"height":1080,"width":1080,"src":"https:\/\/cdn.shopify.com\/s\/files\/1\/0613\/8803\/0165\/products\/2_c10eba21-d190-4ea2-82dc-5236f05143b0.jpg?v=1640093529"}},"requires_selling_plan":false,"selling_plan_allocations":[]},{"id":42293014003925,"title":"Rose Cloud \/ keep fucking going","option1":"Rose Cloud","option2":"keep fucking going","option3":null,"sku":"TA-Keepfucking-Pink","requires_shipping":true,"taxable":true,"featured_image":{"id":36389656035541,"product_id":7495658701013,"position":10,"created_at":"2021-12-21T05:32:09-08:00","updated_at":"2021-12-21T05:32:09-08:00","alt":null,"width":1080,"height":1080,"src":"https:\/\/cdn.shopify.com\/s\/files\/1\/0613\/8803\/0165\/products\/2_c10eba21-d190-4ea2-82dc-5236f05143b0.jpg?v=1640093529","variant_ids":[42293013020885,42293013086421,42293013348565,42293013414101,42293013577941,42293013610709,42293013774549,42293013807317,42293013971157,42293014003925,42293014167765,42293014200533,42293014364373,42293014397141,42293014560981,42293014593749]},"available":true,"name":"Meaningful Quotes Color Bangle - Rose Cloud \/ keep fucking going","public_title":"Rose Cloud \/ keep fucking going","options":["Rose Cloud","keep fucking going"],"price":2890,"weight":0,"compare_at_price":null,"inventory_management":null,"barcode":null,"featured_media":{"alt":null,"id":28940096176341,"position":10,"preview_image":{"aspect_ratio":1.0,"height":1080,"width":1080,"src":"https:\/\/cdn.shopify.com\/s\/files\/1\/0613\/8803\/0165\/products\/2_c10eba21-d190-4ea2-82dc-5236f05143b0.jpg?v=1640093529"}},"requires_selling_plan":false,"selling_plan_allocations":[]},{"id":42293014036693,"title":"Rose Cloud \/ She believed she could so she did","option1":"Rose Cloud","option2":"She believed she could so she did","option3":null,"sku":"TA-Shebelieve-Pink","requires_shipping":true,"taxable":true,"featured_image":null,"available":true,"name":"Meaningful Quotes Color Bangle - Rose Cloud \/ She believed she could so she did","public_title":"Rose Cloud \/ She believed she could so she did","options":["Rose Cloud","She believed she could so she did"],"price":2890,"weight":0,"compare_at_price":null,"inventory_management":null,"barcode":null,"requires_selling_plan":false,"selling_plan_allocations":[]},{"id":42293014069461,"title":"Rose Cloud \/ Queen of everything","option1":"Rose Cloud","option2":"Queen of everything","option3":null,"sku":"TA-Queen-Pink","requires_shipping":true,"taxable":true,"featured_image":null,"available":true,"name":"Meaningful Quotes Color Bangle - Rose Cloud \/ Queen of everything","public_title":"Rose Cloud \/ Queen of everything","options":["Rose Cloud","Queen of everything"],"price":2890,"weight":0,"compare_at_price":null,"inventory_management":null,"barcode":null,"requires_selling_plan":false,"selling_plan_allocations":[]},{"id":42293014102229,"title":"Soft Pink \/ You are a badass","option1":"Soft Pink","option2":"You are a badass","option3":null,"sku":"TA-badass-LightPink","requires_shipping":true,"taxable":true,"featured_image":{"id":36389656002773,"product_id":7495658701013,"position":9,"created_at":"2021-12-21T05:32:09-08:00","updated_at":"2021-12-21T05:32:09-08:00","alt":null,"width":1080,"height":1080,"src":"https:\/\/cdn.shopify.com\/s\/files\/1\/0613\/8803\/0165\/products\/3_ce96d06d-a72e-4468-be54-63678cf4127f.jpg?v=1640093529","variant_ids":[42293012889813,42293012955349,42293013217493,42293013283029,42293013512405,42293013545173,42293013709013,42293013741781,42293013905621,42293013938389,42293014102229,42293014134997,42293014298837,42293014331605,42293014495445,42293014528213]},"available":true,"name":"Meaningful Quotes Color Bangle - Soft Pink \/ You are a badass","public_title":"Soft Pink \/ You are a badass","options":["Soft Pink","You are a badass"],"price":2890,"weight":0,"compare_at_price":null,"inventory_management":null,"barcode":null,"featured_media":{"alt":null,"id":28940096143573,"position":9,"preview_image":{"aspect_ratio":1.0,"height":1080,"width":1080,"src":"https:\/\/cdn.shopify.com\/s\/files\/1\/0613\/8803\/0165\/products\/3_ce96d06d-a72e-4468-be54-63678cf4127f.jpg?v=1640093529"}},"requires_selling_plan":false,"selling_plan_allocations":[]},{"id":42293014134997,"title":"Soft Pink \/ You fucking got this","option1":"Soft Pink","option2":"You fucking got this","option3":null,"sku":"TA-fuckinggot-LightPink","requires_shipping":true,"taxable":true,"featured_image":{"id":36389656002773,"product_id":7495658701013,"position":9,"created_at":"2021-12-21T05:32:09-08:00","updated_at":"2021-12-21T05:32:09-08:00","alt":null,"width":1080,"height":1080,"src":"https:\/\/cdn.shopify.com\/s\/files\/1\/0613\/8803\/0165\/products\/3_ce96d06d-a72e-4468-be54-63678cf4127f.jpg?v=1640093529","variant_ids":[42293012889813,42293012955349,42293013217493,42293013283029,42293013512405,42293013545173,42293013709013,42293013741781,42293013905621,42293013938389,42293014102229,42293014134997,42293014298837,42293014331605,42293014495445,42293014528213]},"available":true,"name":"Meaningful Quotes Color Bangle - Soft Pink \/ You fucking got this","public_title":"Soft Pink \/ You fucking got this","options":["Soft Pink","You fucking got this"],"price":2890,"weight":0,"compare_at_price":null,"inventory_management":null,"barcode":null,"featured_media":{"alt":null,"id":28940096143573,"position":9,"preview_image":{"aspect_ratio":1.0,"height":1080,"width":1080,"src":"https:\/\/cdn.shopify.com\/s\/files\/1\/0613\/8803\/0165\/products\/3_ce96d06d-a72e-4468-be54-63678cf4127f.jpg?v=1640093529"}},"requires_selling_plan":false,"selling_plan_allocations":[]},{"id":42293014167765,"title":"Soft Pink \/ Believe in you like I do","option1":"Soft Pink","option2":"Believe in you like I do","option3":null,"sku":"TA-Believein-LightPink","requires_shipping":true,"taxable":true,"featured_image":{"id":36389656035541,"product_id":7495658701013,"position":10,"created_at":"2021-12-21T05:32:09-08:00","updated_at":"2021-12-21T05:32:09-08:00","alt":null,"width":1080,"height":1080,"src":"https:\/\/cdn.shopify.com\/s\/files\/1\/0613\/8803\/0165\/products\/2_c10eba21-d190-4ea2-82dc-5236f05143b0.jpg?v=1640093529","variant_ids":[42293013020885,42293013086421,42293013348565,42293013414101,42293013577941,42293013610709,42293013774549,42293013807317,42293013971157,42293014003925,42293014167765,42293014200533,42293014364373,42293014397141,42293014560981,42293014593749]},"available":true,"name":"Meaningful Quotes Color Bangle - Soft Pink \/ Believe in you like I do","public_title":"Soft Pink \/ Believe in you like I do","options":["Soft Pink","Believe in you like I do"],"price":2890,"weight":0,"compare_at_price":null,"inventory_management":null,"barcode":null,"featured_media":{"alt":null,"id":28940096176341,"position":10,"preview_image":{"aspect_ratio":1.0,"height":1080,"width":1080,"src":"https:\/\/cdn.shopify.com\/s\/files\/1\/0613\/8803\/0165\/products\/2_c10eba21-d190-4ea2-82dc-5236f05143b0.jpg?v=1640093529"}},"requires_selling_plan":false,"selling_plan_allocations":[]},{"id":42293014200533,"title":"Soft Pink \/ keep fucking going","option1":"Soft Pink","option2":"keep fucking going","option3":null,"sku":"TA-Keepfucking-LightPink","requires_shipping":true,"taxable":true,"featured_image":{"id":36389656035541,"product_id":7495658701013,"position":10,"created_at":"2021-12-21T05:32:09-08:00","updated_at":"2021-12-21T05:32:09-08:00","alt":null,"width":1080,"height":1080,"src":"https:\/\/cdn.shopify.com\/s\/files\/1\/0613\/8803\/0165\/products\/2_c10eba21-d190-4ea2-82dc-5236f05143b0.jpg?v=1640093529","variant_ids":[42293013020885,42293013086421,42293013348565,42293013414101,42293013577941,42293013610709,42293013774549,42293013807317,42293013971157,42293014003925,42293014167765,42293014200533,42293014364373,42293014397141,42293014560981,42293014593749]},"available":true,"name":"Meaningful Quotes Color Bangle - Soft Pink \/ keep fucking going","public_title":"Soft Pink \/ keep fucking going","options":["Soft Pink","keep fucking going"],"price":2890,"weight":0,"compare_at_price":null,"inventory_management":null,"barcode":null,"featured_media":{"alt":null,"id":28940096176341,"position":10,"preview_image":{"aspect_ratio":1.0,"height":1080,"width":1080,"src":"https:\/\/cdn.shopify.com\/s\/files\/1\/0613\/8803\/0165\/products\/2_c10eba21-d190-4ea2-82dc-5236f05143b0.jpg?v=1640093529"}},"requires_selling_plan":false,"selling_plan_allocations":[]},{"id":42293014233301,"title":"Soft Pink \/ She believed she could so she did","option1":"Soft Pink","option2":"She believed she could so she did","option3":null,"sku":"TA-Shebelieve-LightPink","requires_shipping":true,"taxable":true,"featured_image":null,"available":true,"name":"Meaningful Quotes Color Bangle - Soft Pink \/ She believed she could so she did","public_title":"Soft Pink \/ She believed she could so she did","options":["Soft Pink","She believed she could so she did"],"price":2890,"weight":0,"compare_at_price":null,"inventory_management":null,"barcode":null,"requires_selling_plan":false,"selling_plan_allocations":[]},{"id":42293014266069,"title":"Soft Pink \/ Queen of everything","option1":"Soft Pink","option2":"Queen of everything","option3":null,"sku":"TA-Queen-LightPink","requires_shipping":true,"taxable":true,"featured_image":null,"available":true,"name":"Meaningful Quotes Color Bangle - Soft Pink \/ Queen of everything","public_title":"Soft Pink \/ Queen of everything","options":["Soft Pink","Queen of everything"],"price":2890,"weight":0,"compare_at_price":null,"inventory_management":null,"barcode":null,"requires_selling_plan":false,"selling_plan_allocations":[]},{"id":42293014298837,"title":"Mandarin Orange \/ You are a badass","option1":"Mandarin Orange","option2":"You are a badass","option3":null,"sku":"TA-badass-Red","requires_shipping":true,"taxable":true,"featured_image":{"id":36389656002773,"product_id":7495658701013,"position":9,"created_at":"2021-12-21T05:32:09-08:00","updated_at":"2021-12-21T05:32:09-08:00","alt":null,"width":1080,"height":1080,"src":"https:\/\/cdn.shopify.com\/s\/files\/1\/0613\/8803\/0165\/products\/3_ce96d06d-a72e-4468-be54-63678cf4127f.jpg?v=1640093529","variant_ids":[42293012889813,42293012955349,42293013217493,42293013283029,42293013512405,42293013545173,42293013709013,42293013741781,42293013905621,42293013938389,42293014102229,42293014134997,42293014298837,42293014331605,42293014495445,42293014528213]},"available":true,"name":"Meaningful Quotes Color Bangle - Mandarin Orange \/ You are a badass","public_title":"Mandarin Orange \/ You are a badass","options":["Mandarin Orange","You are a badass"],"price":2890,"weight":0,"compare_at_price":null,"inventory_management":null,"barcode":null,"featured_media":{"alt":null,"id":28940096143573,"position":9,"preview_image":{"aspect_ratio":1.0,"height":1080,"width":1080,"src":"https:\/\/cdn.shopify.com\/s\/files\/1\/0613\/8803\/0165\/products\/3_ce96d06d-a72e-4468-be54-63678cf4127f.jpg?v=1640093529"}},"requires_selling_plan":false,"selling_plan_allocations":[]},{"id":42293014331605,"title":"Mandarin Orange \/ You fucking got this","option1":"Mandarin Orange","option2":"You fucking got this","option3":null,"sku":"TA-fuckinggot-Red","requires_shipping":true,"taxable":true,"featured_image":{"id":36389656002773,"product_id":7495658701013,"position":9,"created_at":"2021-12-21T05:32:09-08:00","updated_at":"2021-12-21T05:32:09-08:00","alt":null,"width":1080,"height":1080,"src":"https:\/\/cdn.shopify.com\/s\/files\/1\/0613\/8803\/0165\/products\/3_ce96d06d-a72e-4468-be54-63678cf4127f.jpg?v=1640093529","variant_ids":[42293012889813,42293012955349,42293013217493,42293013283029,42293013512405,42293013545173,42293013709013,42293013741781,42293013905621,42293013938389,42293014102229,42293014134997,42293014298837,42293014331605,42293014495445,42293014528213]},"available":true,"name":"Meaningful Quotes Color Bangle - Mandarin Orange \/ You fucking got this","public_title":"Mandarin Orange \/ You fucking got this","options":["Mandarin Orange","You fucking got this"],"price":2890,"weight":0,"compare_at_price":null,"inventory_management":null,"barcode":null,"featured_media":{"alt":null,"id":28940096143573,"position":9,"preview_image":{"aspect_ratio":1.0,"height":1080,"width":1080,"src":"https:\/\/cdn.shopify.com\/s\/files\/1\/0613\/8803\/0165\/products\/3_ce96d06d-a72e-4468-be54-63678cf4127f.jpg?v=1640093529"}},"requires_selling_plan":false,"selling_plan_allocations":[]},{"id":42293014364373,"title":"Mandarin Orange \/ Believe in you like I do","option1":"Mandarin Orange","option2":"Believe in you like I do","option3":null,"sku":"TA-Believein-Red","requires_shipping":true,"taxable":true,"featured_image":{"id":36389656035541,"product_id":7495658701013,"position":10,"created_at":"2021-12-21T05:32:09-08:00","updated_at":"2021-12-21T05:32:09-08:00","alt":null,"width":1080,"height":1080,"src":"https:\/\/cdn.shopify.com\/s\/files\/1\/0613\/8803\/0165\/products\/2_c10eba21-d190-4ea2-82dc-5236f05143b0.jpg?v=1640093529","variant_ids":[42293013020885,42293013086421,42293013348565,42293013414101,42293013577941,42293013610709,42293013774549,42293013807317,42293013971157,42293014003925,42293014167765,42293014200533,42293014364373,42293014397141,42293014560981,42293014593749]},"available":true,"name":"Meaningful Quotes Color Bangle - Mandarin Orange \/ Believe in you like I do","public_title":"Mandarin Orange \/ Believe in you like I do","options":["Mandarin Orange","Believe in you like I do"],"price":2890,"weight":0,"compare_at_price":null,"inventory_management":null,"barcode":null,"featured_media":{"alt":null,"id":28940096176341,"position":10,"preview_image":{"aspect_ratio":1.0,"height":1080,"width":1080,"src":"https:\/\/cdn.shopify.com\/s\/files\/1\/0613\/8803\/0165\/products\/2_c10eba21-d190-4ea2-82dc-5236f05143b0.jpg?v=1640093529"}},"requires_selling_plan":false,"selling_plan_allocations":[]},{"id":42293014397141,"title":"Mandarin Orange \/ keep fucking going","option1":"Mandarin Orange","option2":"keep fucking going","option3":null,"sku":"TA-Keepfucking-Red","requires_shipping":true,"taxable":true,"featured_image":{"id":36389656035541,"product_id":7495658701013,"position":10,"created_at":"2021-12-21T05:32:09-08:00","updated_at":"2021-12-21T05:32:09-08:00","alt":null,"width":1080,"height":1080,"src":"https:\/\/cdn.shopify.com\/s\/files\/1\/0613\/8803\/0165\/products\/2_c10eba21-d190-4ea2-82dc-5236f05143b0.jpg?v=1640093529","variant_ids":[42293013020885,42293013086421,42293013348565,42293013414101,42293013577941,42293013610709,42293013774549,42293013807317,42293013971157,42293014003925,42293014167765,42293014200533,42293014364373,42293014397141,42293014560981,42293014593749]},"available":true,"name":"Meaningful Quotes Color Bangle - Mandarin Orange \/ keep fucking going","public_title":"Mandarin Orange \/ keep fucking going","options":["Mandarin Orange","keep fucking going"],"price":2890,"weight":0,"compare_at_price":null,"inventory_management":null,"barcode":null,"featured_media":{"alt":null,"id":28940096176341,"position":10,"preview_image":{"aspect_ratio":1.0,"height":1080,"width":1080,"src":"https:\/\/cdn.shopify.com\/s\/files\/1\/0613\/8803\/0165\/products\/2_c10eba21-d190-4ea2-82dc-5236f05143b0.jpg?v=1640093529"}},"requires_selling_plan":false,"selling_plan_allocations":[]},{"id":42293014429909,"title":"Mandarin Orange \/ She believed she could so she did","option1":"Mandarin Orange","option2":"She believed she could so she did","option3":null,"sku":"TA-Shebelieve-Red","requires_shipping":true,"taxable":true,"featured_image":null,"available":true,"name":"Meaningful Quotes Color Bangle - Mandarin Orange \/ She believed she could so she did","public_title":"Mandarin Orange \/ She believed she could so she did","options":["Mandarin Orange","She believed she could so she did"],"price":2890,"weight":0,"compare_at_price":null,"inventory_management":null,"barcode":null,"requires_selling_plan":false,"selling_plan_allocations":[]},{"id":42293014462677,"title":"Mandarin Orange \/ Queen of everything","option1":"Mandarin Orange","option2":"Queen of everything","option3":null,"sku":"TA-Queen-Red","requires_shipping":true,"taxable":true,"featured_image":null,"available":true,"name":"Meaningful Quotes Color Bangle - Mandarin Orange \/ Queen of everything","public_title":"Mandarin Orange \/ Queen of everything","options":["Mandarin Orange","Queen of everything"],"price":2890,"weight":0,"compare_at_price":null,"inventory_management":null,"barcode":null,"requires_selling_plan":false,"selling_plan_allocations":[]},{"id":42293014495445,"title":"Daffodil Yellow \/ You are a badass","option1":"Daffodil Yellow","option2":"You are a badass","option3":null,"sku":"TA-badass-Yellow","requires_shipping":true,"taxable":true,"featured_image":{"id":36389656002773,"product_id":7495658701013,"position":9,"created_at":"2021-12-21T05:32:09-08:00","updated_at":"2021-12-21T05:32:09-08:00","alt":null,"width":1080,"height":1080,"src":"https:\/\/cdn.shopify.com\/s\/files\/1\/0613\/8803\/0165\/products\/3_ce96d06d-a72e-4468-be54-63678cf4127f.jpg?v=1640093529","variant_ids":[42293012889813,42293012955349,42293013217493,42293013283029,42293013512405,42293013545173,42293013709013,42293013741781,42293013905621,42293013938389,42293014102229,42293014134997,42293014298837,42293014331605,42293014495445,42293014528213]},"available":true,"name":"Meaningful Quotes Color Bangle - Daffodil Yellow \/ You are a badass","public_title":"Daffodil Yellow \/ You are a badass","options":["Daffodil Yellow","You are a badass"],"price":2890,"weight":0,"compare_at_price":null,"inventory_management":null,"barcode":null,"featured_media":{"alt":null,"id":28940096143573,"position":9,"preview_image":{"aspect_ratio":1.0,"height":1080,"width":1080,"src":"https:\/\/cdn.shopify.com\/s\/files\/1\/0613\/8803\/0165\/products\/3_ce96d06d-a72e-4468-be54-63678cf4127f.jpg?v=1640093529"}},"requires_selling_plan":false,"selling_plan_allocations":[]},{"id":42293014528213,"title":"Daffodil Yellow \/ You fucking got this","option1":"Daffodil Yellow","option2":"You fucking got this","option3":null,"sku":"TA-fuckinggot-Yellow","requires_shipping":true,"taxable":true,"featured_image":{"id":36389656002773,"product_id":7495658701013,"position":9,"created_at":"2021-12-21T05:32:09-08:00","updated_at":"2021-12-21T05:32:09-08:00","alt":null,"width":1080,"height":1080,"src":"https:\/\/cdn.shopify.com\/s\/files\/1\/0613\/8803\/0165\/products\/3_ce96d06d-a72e-4468-be54-63678cf4127f.jpg?v=1640093529","variant_ids":[42293012889813,42293012955349,42293013217493,42293013283029,42293013512405,42293013545173,42293013709013,42293013741781,42293013905621,42293013938389,42293014102229,42293014134997,42293014298837,42293014331605,42293014495445,42293014528213]},"available":true,"name":"Meaningful Quotes Color Bangle - Daffodil Yellow \/ You fucking got this","public_title":"Daffodil Yellow \/ You fucking got this","options":["Daffodil Yellow","You fucking got this"],"price":2890,"weight":0,"compare_at_price":null,"inventory_management":null,"barcode":null,"featured_media":{"alt":null,"id":28940096143573,"position":9,"preview_image":{"aspect_ratio":1.0,"height":1080,"width":1080,"src":"https:\/\/cdn.shopify.com\/s\/files\/1\/0613\/8803\/0165\/products\/3_ce96d06d-a72e-4468-be54-63678cf4127f.jpg?v=1640093529"}},"requires_selling_plan":false,"selling_plan_allocations":[]},{"id":42293014560981,"title":"Daffodil Yellow \/ Believe in you like I do","option1":"Daffodil Yellow","option2":"Believe in you like I do","option3":null,"sku":"TA-Believein-Yellow","requires_shipping":true,"taxable":true,"featured_image":{"id":36389656035541,"product_id":7495658701013,"position":10,"created_at":"2021-12-21T05:32:09-08:00","updated_at":"2021-12-21T05:32:09-08:00","alt":null,"width":1080,"height":1080,"src":"https:\/\/cdn.shopify.com\/s\/files\/1\/0613\/8803\/0165\/products\/2_c10eba21-d190-4ea2-82dc-5236f05143b0.jpg?v=1640093529","variant_ids":[42293013020885,42293013086421,42293013348565,42293013414101,42293013577941,42293013610709,42293013774549,42293013807317,42293013971157,42293014003925,42293014167765,42293014200533,42293014364373,42293014397141,42293014560981,42293014593749]},"available":true,"name":"Meaningful Quotes Color Bangle - Daffodil Yellow \/ Believe in you like I do","public_title":"Daffodil Yellow \/ Believe in you like I do","options":["Daffodil Yellow","Believe in you like I do"],"price":2890,"weight":0,"compare_at_price":null,"inventory_management":null,"barcode":null,"featured_media":{"alt":null,"id":28940096176341,"position":10,"preview_image":{"aspect_ratio":1.0,"height":1080,"width":1080,"src":"https:\/\/cdn.shopify.com\/s\/files\/1\/0613\/8803\/0165\/products\/2_c10eba21-d190-4ea2-82dc-5236f05143b0.jpg?v=1640093529"}},"requires_selling_plan":false,"selling_plan_allocations":[]},{"id":42293014593749,"title":"Daffodil Yellow \/ keep fucking going","option1":"Daffodil Yellow","option2":"keep fucking going","option3":null,"sku":"TA-Keepfucking-Yellow","requires_shipping":true,"taxable":true,"featured_image":{"id":36389656035541,"product_id":7495658701013,"position":10,"created_at":"2021-12-21T05:32:09-08:00","updated_at":"2021-12-21T05:32:09-08:00","alt":null,"width":1080,"height":1080,"src":"https:\/\/cdn.shopify.com\/s\/files\/1\/0613\/8803\/0165\/products\/2_c10eba21-d190-4ea2-82dc-5236f05143b0.jpg?v=1640093529","variant_ids":[42293013020885,42293013086421,42293013348565,42293013414101,42293013577941,42293013610709,42293013774549,42293013807317,42293013971157,42293014003925,42293014167765,42293014200533,42293014364373,42293014397141,42293014560981,42293014593749]},"available":true,"name":"Meaningful Quotes Color Bangle - Daffodil Yellow \/ keep fucking going","public_title":"Daffodil Yellow \/ keep fucking going","options":["Daffodil Yellow","keep fucking going"],"price":2890,"weight":0,"compare_at_price":null,"inventory_management":null,"barcode":null,"featured_media":{"alt":null,"id":28940096176341,"position":10,"preview_image":{"aspect_ratio":1.0,"height":1080,"width":1080,"src":"https:\/\/cdn.shopify.com\/s\/files\/1\/0613\/8803\/0165\/products\/2_c10eba21-d190-4ea2-82dc-5236f05143b0.jpg?v=1640093529"}},"requires_selling_plan":false,"selling_plan_allocations":[]},{"id":42293014626517,"title":"Daffodil Yellow \/ She believed she could so she did","option1":"Daffodil Yellow","option2":"She believed she could so she did","option3":null,"sku":"TA-Shebelieve-Yellow","requires_shipping":true,"taxable":true,"featured_image":null,"available":true,"name":"Meaningful Quotes Color Bangle - Daffodil Yellow \/ She believed she could so she did","public_title":"Daffodil Yellow \/ She believed she could so she did","options":["Daffodil Yellow","She believed she could so she did"],"price":2890,"weight":0,"compare_at_price":null,"inventory_management":null,"barcode":null,"requires_selling_plan":false,"selling_plan_allocations":[]},{"id":42293014659285,"title":"Daffodil Yellow \/ Queen of everything","option1":"Daffodil Yellow","option2":"Queen of everything","option3":null,"sku":"TA-Queen-Yellow","requires_shipping":true,"taxable":true,"featured_image":null,"available":true,"name":"Meaningful Quotes Color Bangle - Daffodil Yellow \/ Queen of everything","public_title":"Daffodil Yellow \/ Queen of everything","options":["Daffodil Yellow","Queen of everything"],"price":2890,"weight":0,"compare_at_price":null,"inventory_management":null,"barcode":null,"requires_selling_plan":false,"selling_plan_allocations":[]}]
{"id":42293012889813,"title":"Neptune Green \/ You are a badass","option1":"Neptune Green","option2":"You are a badass","option3":null,"sku":"TA-badass-Green","requires_shipping":true,"taxable":true,"featured_image":{"id":36389656002773,"product_id":7495658701013,"position":9,"created_at":"2021-12-21T05:32:09-08:00","updated_at":"2021-12-21T05:32:09-08:00","alt":null,"width":1080,"height":1080,"src":"https:\/\/cdn.shopify.com\/s\/files\/1\/0613\/8803\/0165\/products\/3_ce96d06d-a72e-4468-be54-63678cf4127f.jpg?v=1640093529","variant_ids":[42293012889813,42293012955349,42293013217493,42293013283029,42293013512405,42293013545173,42293013709013,42293013741781,42293013905621,42293013938389,42293014102229,42293014134997,42293014298837,42293014331605,42293014495445,42293014528213]},"available":true,"name":"Meaningful Quotes Color Bangle - Neptune Green \/ You are a badass","public_title":"Neptune Green \/ You are a badass","options":["Neptune Green","You are a badass"],"price":2890,"weight":0,"compare_at_price":null,"inventory_management":null,"barcode":null,"featured_media":{"alt":null,"id":28940096143573,"position":9,"preview_image":{"aspect_ratio":1.0,"height":1080,"width":1080,"src":"https:\/\/cdn.shopify.com\/s\/files\/1\/0613\/8803\/0165\/products\/3_ce96d06d-a72e-4468-be54-63678cf4127f.jpg?v=1640093529"}},"requires_selling_plan":false,"selling_plan_allocations":[]}
DESCRIPTION
Hope this pretty bangle can bring you warmth!
Well-designed colors and the engravings are all done in the best way.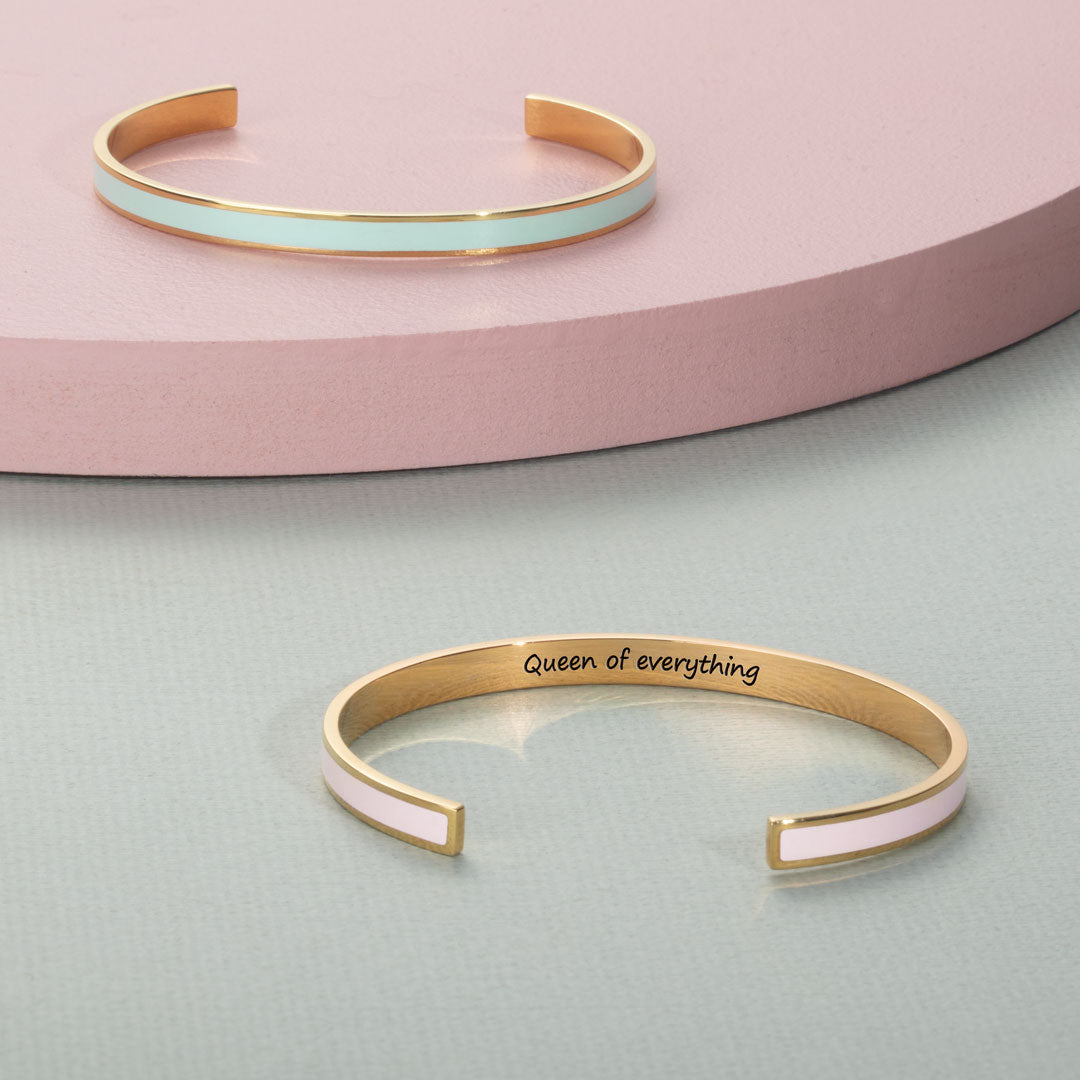 Also with essence gift boxes, perfect for a gift!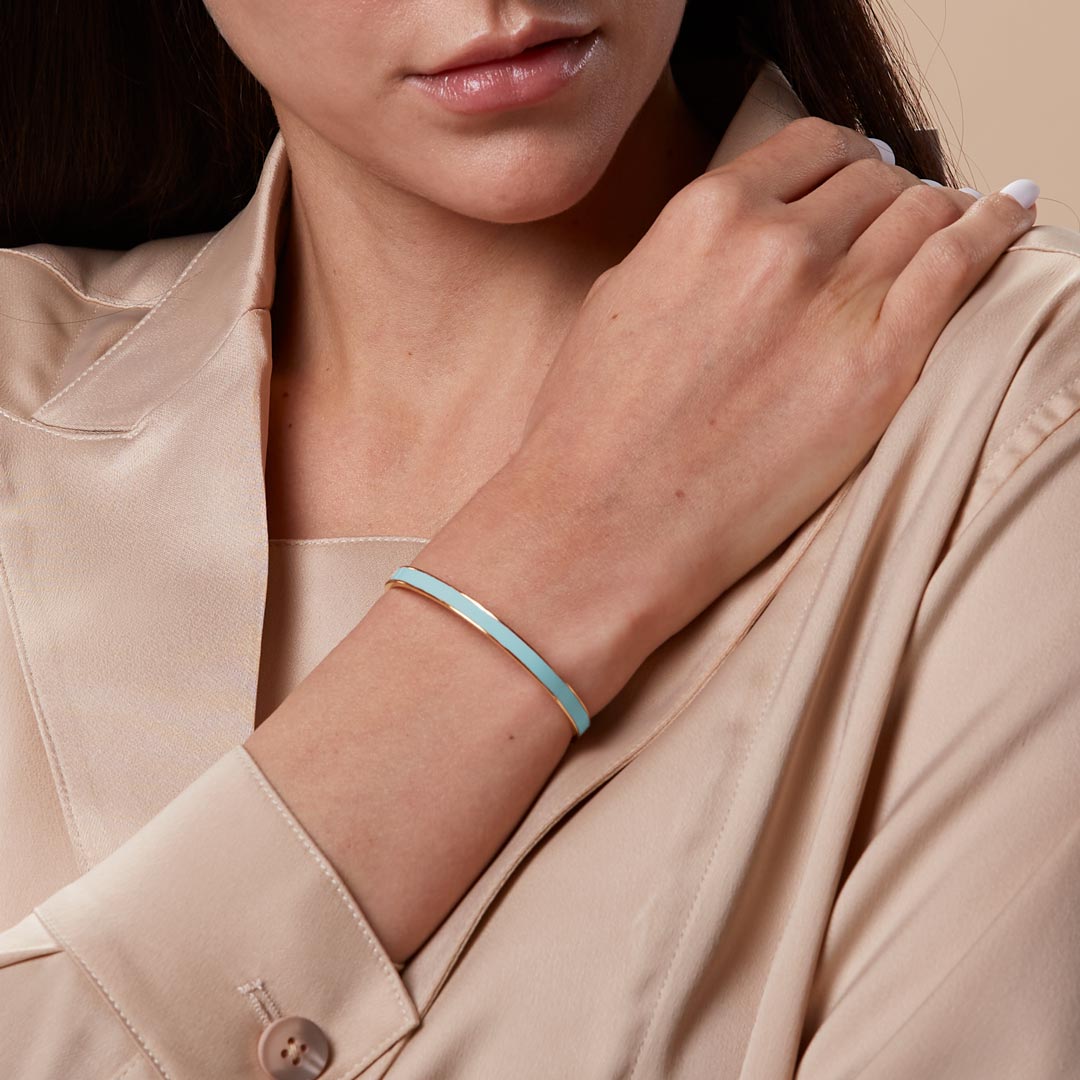 SPECIFICATIONS
The bangle is made of 316L stainless 18k gold plating and glaze printing, stronger and more durable, will never fade, tarnish, corrode, stain, or cause allergic responses. 
Nickel-free, 100% in harmony with the wrist. Measurements: Diameter 2.5", L/6.2", wide: 5mm.