Thank You For All That You've Done Hug Ring
Regular price
$36.00
/
---
[{"id":42292735803605,"title":"Gold \/ 5","option1":"Gold","option2":"5","option3":null,"sku":"QL-LittleU-Hug-GD-5zu","requires_shipping":true,"taxable":true,"featured_image":{"id":36389414764757,"product_id":7495620853973,"position":4,"created_at":"2021-12-21T05:06:58-08:00","updated_at":"2021-12-21T05:06:58-08:00","alt":null,"width":1080,"height":1080,"src":"https:\/\/cdn.shopify.com\/s\/files\/1\/0613\/8803\/0165\/products\/108605d4881e92032474a2607c176617_1552c965-342b-4f1d-a8c1-87100ca8a9bb.jpg?v=1640092018","variant_ids":[42292735803605,42292735934677,42292736065749,42292736196821]},"available":true,"name":"Thank You For All That You've Done Hug Ring - Gold \/ 5","public_title":"Gold \/ 5","options":["Gold","5"],"price":3600,"weight":0,"compare_at_price":null,"inventory_management":null,"barcode":null,"featured_media":{"alt":null,"id":28939853725909,"position":4,"preview_image":{"aspect_ratio":1.0,"height":1080,"width":1080,"src":"https:\/\/cdn.shopify.com\/s\/files\/1\/0613\/8803\/0165\/products\/108605d4881e92032474a2607c176617_1552c965-342b-4f1d-a8c1-87100ca8a9bb.jpg?v=1640092018"}},"requires_selling_plan":false,"selling_plan_allocations":[]},{"id":42292735869141,"title":"Gold \/ 6","option1":"Gold","option2":"6","option3":null,"sku":"QL-LittleU-Hug-GD-6zu","requires_shipping":true,"taxable":true,"featured_image":{"id":36389414633685,"product_id":7495620853973,"position":2,"created_at":"2021-12-21T05:06:57-08:00","updated_at":"2021-12-21T05:06:57-08:00","alt":null,"width":1080,"height":1080,"src":"https:\/\/cdn.shopify.com\/s\/files\/1\/0613\/8803\/0165\/products\/f5119aabfd455844901b112737b808c4_b76876f0-6a73-4f56-8426-3d32f8f696b1.jpg?v=1640092017","variant_ids":[42292735869141,42292736000213,42292736131285,42292736229589]},"available":true,"name":"Thank You For All That You've Done Hug Ring - Gold \/ 6","public_title":"Gold \/ 6","options":["Gold","6"],"price":3600,"weight":0,"compare_at_price":null,"inventory_management":null,"barcode":null,"featured_media":{"alt":null,"id":28939853594837,"position":2,"preview_image":{"aspect_ratio":1.0,"height":1080,"width":1080,"src":"https:\/\/cdn.shopify.com\/s\/files\/1\/0613\/8803\/0165\/products\/f5119aabfd455844901b112737b808c4_b76876f0-6a73-4f56-8426-3d32f8f696b1.jpg?v=1640092017"}},"requires_selling_plan":false,"selling_plan_allocations":[]},{"id":42292735934677,"title":"Gold \/ 7","option1":"Gold","option2":"7","option3":null,"sku":"QL-LittleU-Hug-GD-7zu","requires_shipping":true,"taxable":true,"featured_image":{"id":36389414764757,"product_id":7495620853973,"position":4,"created_at":"2021-12-21T05:06:58-08:00","updated_at":"2021-12-21T05:06:58-08:00","alt":null,"width":1080,"height":1080,"src":"https:\/\/cdn.shopify.com\/s\/files\/1\/0613\/8803\/0165\/products\/108605d4881e92032474a2607c176617_1552c965-342b-4f1d-a8c1-87100ca8a9bb.jpg?v=1640092018","variant_ids":[42292735803605,42292735934677,42292736065749,42292736196821]},"available":true,"name":"Thank You For All That You've Done Hug Ring - Gold \/ 7","public_title":"Gold \/ 7","options":["Gold","7"],"price":3600,"weight":0,"compare_at_price":null,"inventory_management":null,"barcode":null,"featured_media":{"alt":null,"id":28939853725909,"position":4,"preview_image":{"aspect_ratio":1.0,"height":1080,"width":1080,"src":"https:\/\/cdn.shopify.com\/s\/files\/1\/0613\/8803\/0165\/products\/108605d4881e92032474a2607c176617_1552c965-342b-4f1d-a8c1-87100ca8a9bb.jpg?v=1640092018"}},"requires_selling_plan":false,"selling_plan_allocations":[]},{"id":42292736000213,"title":"Gold \/ 8","option1":"Gold","option2":"8","option3":null,"sku":"QL-LittleU-Hug-GD-8zu","requires_shipping":true,"taxable":true,"featured_image":{"id":36389414633685,"product_id":7495620853973,"position":2,"created_at":"2021-12-21T05:06:57-08:00","updated_at":"2021-12-21T05:06:57-08:00","alt":null,"width":1080,"height":1080,"src":"https:\/\/cdn.shopify.com\/s\/files\/1\/0613\/8803\/0165\/products\/f5119aabfd455844901b112737b808c4_b76876f0-6a73-4f56-8426-3d32f8f696b1.jpg?v=1640092017","variant_ids":[42292735869141,42292736000213,42292736131285,42292736229589]},"available":true,"name":"Thank You For All That You've Done Hug Ring - Gold \/ 8","public_title":"Gold \/ 8","options":["Gold","8"],"price":3600,"weight":0,"compare_at_price":null,"inventory_management":null,"barcode":null,"featured_media":{"alt":null,"id":28939853594837,"position":2,"preview_image":{"aspect_ratio":1.0,"height":1080,"width":1080,"src":"https:\/\/cdn.shopify.com\/s\/files\/1\/0613\/8803\/0165\/products\/f5119aabfd455844901b112737b808c4_b76876f0-6a73-4f56-8426-3d32f8f696b1.jpg?v=1640092017"}},"requires_selling_plan":false,"selling_plan_allocations":[]},{"id":42292736065749,"title":"Gold \/ 9","option1":"Gold","option2":"9","option3":null,"sku":"QL-LittleU-Hug-GD-9zu","requires_shipping":true,"taxable":true,"featured_image":{"id":36389414764757,"product_id":7495620853973,"position":4,"created_at":"2021-12-21T05:06:58-08:00","updated_at":"2021-12-21T05:06:58-08:00","alt":null,"width":1080,"height":1080,"src":"https:\/\/cdn.shopify.com\/s\/files\/1\/0613\/8803\/0165\/products\/108605d4881e92032474a2607c176617_1552c965-342b-4f1d-a8c1-87100ca8a9bb.jpg?v=1640092018","variant_ids":[42292735803605,42292735934677,42292736065749,42292736196821]},"available":true,"name":"Thank You For All That You've Done Hug Ring - Gold \/ 9","public_title":"Gold \/ 9","options":["Gold","9"],"price":3600,"weight":0,"compare_at_price":null,"inventory_management":null,"barcode":null,"featured_media":{"alt":null,"id":28939853725909,"position":4,"preview_image":{"aspect_ratio":1.0,"height":1080,"width":1080,"src":"https:\/\/cdn.shopify.com\/s\/files\/1\/0613\/8803\/0165\/products\/108605d4881e92032474a2607c176617_1552c965-342b-4f1d-a8c1-87100ca8a9bb.jpg?v=1640092018"}},"requires_selling_plan":false,"selling_plan_allocations":[]},{"id":42292736131285,"title":"Gold \/ 10","option1":"Gold","option2":"10","option3":null,"sku":"QL-LittleU-Hug-GD-10zu","requires_shipping":true,"taxable":true,"featured_image":{"id":36389414633685,"product_id":7495620853973,"position":2,"created_at":"2021-12-21T05:06:57-08:00","updated_at":"2021-12-21T05:06:57-08:00","alt":null,"width":1080,"height":1080,"src":"https:\/\/cdn.shopify.com\/s\/files\/1\/0613\/8803\/0165\/products\/f5119aabfd455844901b112737b808c4_b76876f0-6a73-4f56-8426-3d32f8f696b1.jpg?v=1640092017","variant_ids":[42292735869141,42292736000213,42292736131285,42292736229589]},"available":true,"name":"Thank You For All That You've Done Hug Ring - Gold \/ 10","public_title":"Gold \/ 10","options":["Gold","10"],"price":3600,"weight":0,"compare_at_price":null,"inventory_management":null,"barcode":null,"featured_media":{"alt":null,"id":28939853594837,"position":2,"preview_image":{"aspect_ratio":1.0,"height":1080,"width":1080,"src":"https:\/\/cdn.shopify.com\/s\/files\/1\/0613\/8803\/0165\/products\/f5119aabfd455844901b112737b808c4_b76876f0-6a73-4f56-8426-3d32f8f696b1.jpg?v=1640092017"}},"requires_selling_plan":false,"selling_plan_allocations":[]},{"id":42292736196821,"title":"Gold \/ 11","option1":"Gold","option2":"11","option3":null,"sku":"QL-LittleU-Hug-GD-11zu","requires_shipping":true,"taxable":true,"featured_image":{"id":36389414764757,"product_id":7495620853973,"position":4,"created_at":"2021-12-21T05:06:58-08:00","updated_at":"2021-12-21T05:06:58-08:00","alt":null,"width":1080,"height":1080,"src":"https:\/\/cdn.shopify.com\/s\/files\/1\/0613\/8803\/0165\/products\/108605d4881e92032474a2607c176617_1552c965-342b-4f1d-a8c1-87100ca8a9bb.jpg?v=1640092018","variant_ids":[42292735803605,42292735934677,42292736065749,42292736196821]},"available":true,"name":"Thank You For All That You've Done Hug Ring - Gold \/ 11","public_title":"Gold \/ 11","options":["Gold","11"],"price":3600,"weight":0,"compare_at_price":null,"inventory_management":null,"barcode":null,"featured_media":{"alt":null,"id":28939853725909,"position":4,"preview_image":{"aspect_ratio":1.0,"height":1080,"width":1080,"src":"https:\/\/cdn.shopify.com\/s\/files\/1\/0613\/8803\/0165\/products\/108605d4881e92032474a2607c176617_1552c965-342b-4f1d-a8c1-87100ca8a9bb.jpg?v=1640092018"}},"requires_selling_plan":false,"selling_plan_allocations":[]},{"id":42292736229589,"title":"Gold \/ 12","option1":"Gold","option2":"12","option3":null,"sku":"QL-LittleU-Hug-GD-12zu","requires_shipping":true,"taxable":true,"featured_image":{"id":36389414633685,"product_id":7495620853973,"position":2,"created_at":"2021-12-21T05:06:57-08:00","updated_at":"2021-12-21T05:06:57-08:00","alt":null,"width":1080,"height":1080,"src":"https:\/\/cdn.shopify.com\/s\/files\/1\/0613\/8803\/0165\/products\/f5119aabfd455844901b112737b808c4_b76876f0-6a73-4f56-8426-3d32f8f696b1.jpg?v=1640092017","variant_ids":[42292735869141,42292736000213,42292736131285,42292736229589]},"available":true,"name":"Thank You For All That You've Done Hug Ring - Gold \/ 12","public_title":"Gold \/ 12","options":["Gold","12"],"price":3600,"weight":0,"compare_at_price":null,"inventory_management":null,"barcode":null,"featured_media":{"alt":null,"id":28939853594837,"position":2,"preview_image":{"aspect_ratio":1.0,"height":1080,"width":1080,"src":"https:\/\/cdn.shopify.com\/s\/files\/1\/0613\/8803\/0165\/products\/f5119aabfd455844901b112737b808c4_b76876f0-6a73-4f56-8426-3d32f8f696b1.jpg?v=1640092017"}},"requires_selling_plan":false,"selling_plan_allocations":[]}]
{"id":42292735803605,"title":"Gold \/ 5","option1":"Gold","option2":"5","option3":null,"sku":"QL-LittleU-Hug-GD-5zu","requires_shipping":true,"taxable":true,"featured_image":{"id":36389414764757,"product_id":7495620853973,"position":4,"created_at":"2021-12-21T05:06:58-08:00","updated_at":"2021-12-21T05:06:58-08:00","alt":null,"width":1080,"height":1080,"src":"https:\/\/cdn.shopify.com\/s\/files\/1\/0613\/8803\/0165\/products\/108605d4881e92032474a2607c176617_1552c965-342b-4f1d-a8c1-87100ca8a9bb.jpg?v=1640092018","variant_ids":[42292735803605,42292735934677,42292736065749,42292736196821]},"available":true,"name":"Thank You For All That You've Done Hug Ring - Gold \/ 5","public_title":"Gold \/ 5","options":["Gold","5"],"price":3600,"weight":0,"compare_at_price":null,"inventory_management":null,"barcode":null,"featured_media":{"alt":null,"id":28939853725909,"position":4,"preview_image":{"aspect_ratio":1.0,"height":1080,"width":1080,"src":"https:\/\/cdn.shopify.com\/s\/files\/1\/0613\/8803\/0165\/products\/108605d4881e92032474a2607c176617_1552c965-342b-4f1d-a8c1-87100ca8a9bb.jpg?v=1640092018"}},"requires_selling_plan":false,"selling_plan_allocations":[]}
🔔 XMAS PROMOTION 🎁
Get 20% off of two or more items
DESCRIPTION
A meaningful message card included, this dainty Hug ring is the perfect empowering gift for family and friends, in the upcoming Christmas season and many more occasions. 
CARD MESSAGE
A little hug just for you.
For all that you've done, and all that you do.
I just wanted to say a massive
Thank You!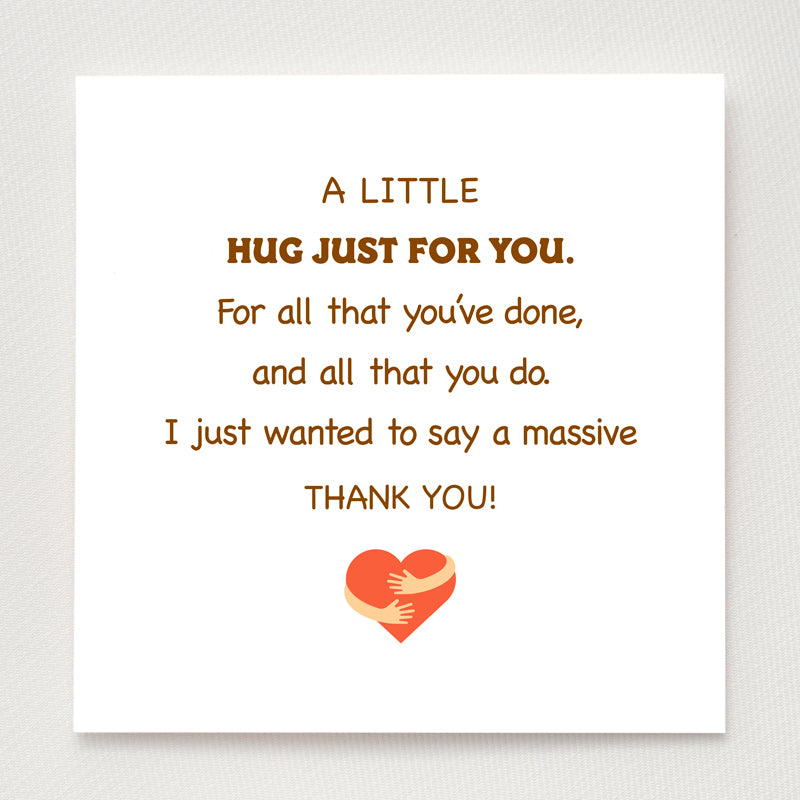 SPECIFICATIONS 
Metal: 925 Sterling Silver Plated with 18k Gold
Nickel and Tarnish Free
FREE Original Message Card